There are three different location for ad placements. :)

The first would be the
Below Header Banner
. :)
Limited to four slots at maximum 240 x 250 pixels.
As stated above, it is RM15/week or RM56/month.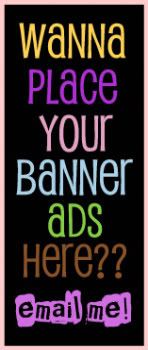 The next would be
Above
My Favourites
list.
For this space, it is limited to only one slot alrightey?
Maximum size allowed is 150 x 300 pixels yeah? :)
As for the charges, it is RM13/week or RM50/month.
Last but not least, it'll be the
Sidebar Banners
.
We are limiting 9 banners at the sidebars okie dokie?
Maximum size allowed is 180 x 250 pixels yeah? :)
The charges are based on a monthly basis at RM20/mth.
If you have any inquiries, email me at
iamtlf@live.com
! :)
T&C - Miss TLF has the right to revise the prices and limits from time to time.